Roslyn Kuzmich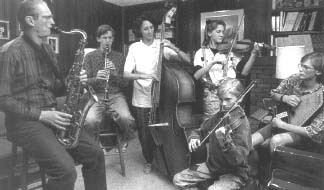 ---
A versatile, innovative teacher with experience in instrumental, vocal and general music and journalism.
Education
M.A. degree in Curriculum and Instructional Design from Colorado Christian University, Lakewood, Colorado, 2000 - 2001.

B.A. degree in music education from Brigham Young University, Provo, Utah, 1969 -1971.

Music and journalism emphasis at Fullerton College, Fullerton, California, 1967-1969.

Post-graduate college music education courses at Indiana University, University of Miami, Grand Canyon University, VanderCook College of Music, University of Missouri at St. Louis, Colorado State University, University of Denver, University of Colorado at Denver and Colorado Spring, State University of New York at Potsdam, University of Utah, Colorado Christian University .
Teaching
Taught general music, art and physical education in Jefferson County School District, Golden, Colorado, 1993 - 2010.
Taught violin, viola, cello and bass classes for grades 4, 5, 6 in Wheeling, Illinois, 1985 -1987
Taught general music at Hanley Junior High School, University University City, Missouri, 1973.
Taught violin, viola, cello classes grades 7, 8 in Woodbridge, New Jersey, 1971 - 1973.
Participated in the Pleasant View Project for three years developing standards-based education lessons via cognitive coaching and ENVOY classroom management skills, 1994 - 1996.
Private violin and piano teacher, 1968 - 1983.
Experienced piano accompanist.
Editorial Experience
Assistant editor, and associate editor for Jazz Educators Journal, 1976 - 1992; American Suzuki Journal, 1992 and 1993. Did page layout, writing, editing and graphic design.