A violinist using guitar as therapy.. not a bad idear, eh? This place is where I keep my music - the things I've written and my adventures in teaching myself how to record. If you have any comments on how I could improve or what your impressions are, just holler in my guestbook.. Thanks for stopping by!

If you need to download a free multimedia player for audio and/or video playback for PC Windows and Mac users, go to: RealOne Player
VIOLIN MUSIC
Reva's Latest Recordings: Featured Soloist with

"The BorderCollies" and Michael Robbins Duo

The "BorderCollies" are a contemporary Celtic band, featuring a unique blend of traditional Celtic and folk influences in their music. Their signature sound incorporates tight instrumentation with three and four part vocal harmonies. Their latest CD, "The Road from Swannanoa", showcases the band's original compositions and their ability to interpret and arrange traditional material. Based out of Duluth, Georgia, the band performs regionally around the southeast at concerts, festivals, pubs and clubs.

For more info about the band's history, their music, upcoming gigs, bio, recordings and more, go to:

http://www.thebordercollies.com

. You must read Reva's on-line bio profile!

Michael Robbins/Reva Kuzmich Guitar/Violin Duo that really is outstanding that must be heard to be believed for it is that good!! Files are all in RealPlayer file format for audio streaming purposes.

May 13, 2006 Border Collies Concert in Atlanta, Georgia. Click here for photos and video streaming!
ALTERNATIVE STRING STYLE LECTURES
NATIONAL STRING CLINICIAN
Clinician for Yamaha Corporation and American Music Stores of Arizona: go to: http://www.kuzmich.com/Brochure.pdf
Clinician for Zeta Music: go to: http://www.zetamusic.com/friends/display.asp?id=113
2001 IAJE International Jazz Conference in New York City, January 13, 2001
2001 Winter NAMM Show in Anaheim, January 17, 2001
2001 MENC Eastern Regional Conference in Pittsburgh on March 3, 2001
2002 Midwest Band & Orchestra Clinic in Chicago on December 18, 2002
2003 Arizona Music Educators Conference in Phoenix, Arizona, February 1, 2003
2003 MENC Northwest Regional Conference in Portland, Oregon, February 14, 2003
2004 ASTA National Conference in Dallas on March 12, 2004
STRING CONFERENCE CLINIC HANDOUTS
GUITAR/VOCAL MUSIC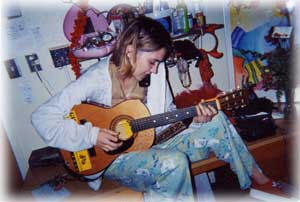 the first attempt - Ready - by Reva Kuzmich, recorded with Acid Pro 4.0 and edited with Sound Forge 6.0
RESUME

sign the guestbook! ---- my Resume --- Kuzmich family site --- 307 MusicWorks --- Hiromorozumi.com